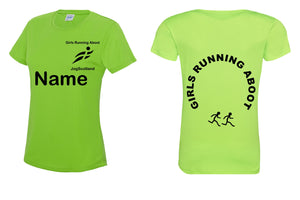 The Girls Running Aboot JogScotland round neck t-shirt comes complete with a large Girls Running Aboot logo on the back, small jogscotland logo on the front and if required your name on the front.  This t-shirt is electric green with black writing.
Please let me know if you would like your name on your t-shirt.
Information about this t-shirt -
100% polyester
Girlie fit
Lightweight Neoteric textured fabric with inherent wickability
UPF 40+ UV protection
To fit chest: 8 10 12 14 16 18
As these items are made with HTV please follow these washing instructions to ensure your garment lasts as long as possible.
Turn inside out
Machine wash on a cool setting
No bleach
No softener
Hang dry only
Do not dry clean
Do not iron